Hi, hi, hi.

Have you noticed it's no longer such a 'new' New Year?
Somehow a whole month's sprinted by in a blur of making things with paper, while writing an e-class and working at Uni and ... and ...and no wonder I'm tired! But, to paraphrase
Radiohead
- I do it to myself and so I'm not actually complaining ... it's just that, if I nod off in the middle of this post ... then at least you'll know why!

So, before my head hits the keyboard filling this post with even more nonsensical ramblings than usual, let's have a look at the numbers I managed to latch on to in that January-flavoured whirl ...

My January 2011 - in numbers:

01.01.2011 = [or Twenty-eleventy as it seems to have become known as in our house!]. The birth of a brand new year caught on camera:
We welcomed Twenty-eleventy at my sister's house where a very sweet lucky Chinese cat helped wave-in the happy: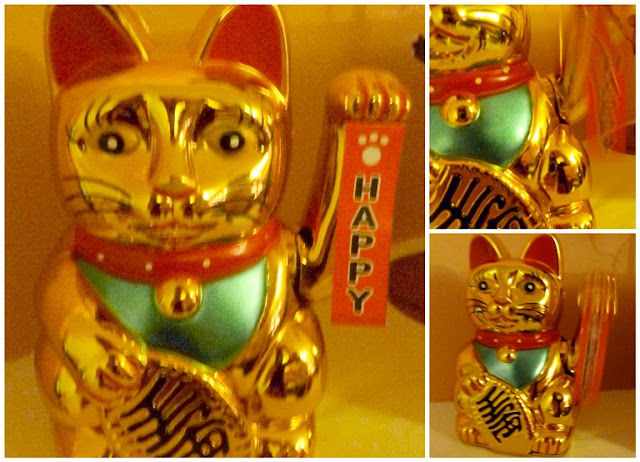 1st = our first, certainly not last, arm's-length self-portrait of the year:
I love how smiley we are ... despite how tired I look! Well, it was after my usual bedtime!
£5.00 = the price of the dress I found in the January sales which I wore when I went out on my birthday:
It's clearly no fancy party dress, but I like it! It's somewhere between peasant-couture and Little House on the Prairie-chic and I can't wait to wear it with sandals and my hair tied back on a summer's day ... whenever that might be ...

5 = the number of random-acts-of-January I'm acting out in the following photos. They're all shots I found while browsing through all photos taken this month with which I could illustrate this post. As I've been pretty busy, I haven't really been anywhere of note or done anything especially photo-worthy ... except this little lot:
5 = the number of vague explanations I can offer you with regards to the above :
Me trying to achieve a suitably attractive, new profile-photo face while wearing my aforementioned Laura Ingalls frock.

Me in the dark after the meal James took me to for my birthday where I ate some amazing muscles in pesto broth which almost made me squeak with pleasure in public!

Me playing Wii balance board Tetris. A photo I wanted to prevent James taking. A photo I could not prevent James taking as I could not allow myself to be distracted from the vital task of clearing Tetris lines.

Me wearing an empty silicon loaf tray on my head. Obviously. The tray had recently had birthday banana-loaf in it and was primarily placed on my head because:

[a] I thought it looked like it would fit - turns out I was correct - and [b] I thought it'd make Hannah laugh. So it's a pity I never got round to emailing it to her really ... makes me putting a loaf tray on my head seem suddenly pointless ...
4/52 = the number of art journal pages I've completed to keep up to date with the UKStampers Weekly Challenge [I'll show you the latest pages in a post later on]. Just the 48 weeks to go!


16:00 - 18:00 = the hours I work on Mondays. Ridiculous no? Due to a change in timetable my working week now begins with an odd 2 hour session filled with an especially dry business/ computer programming module.
Now, don't get me wrong, I like computer programming as much as the next man. In fact I once spent an entire term fascinated duringa series of C++ lectures as it was - quite literally - a whole new language ... and something of a challenge to an Engllish graduate. Speaking of which:


17:15 = The approximate time in last Monday's lecture at which I noticed some words left behind from previous lectures on the whiteboard behind the lecturer.


They were just words which hadn't been erased form the board, but I preferred to see them as 'Found Poetry' and jotted them down [sneakily] in the back of my notebook. In case you can't make out my illicit scrawlings they read:
Internal, external;
Outside event;
Play, punishment;
Death.
Spectacle.

Not bad for some random 'found' English language amid an hour of computer-speak!

Oh and - this is nothing to do with numbers but - my mood was also lightened by the story the lecturer attempted to tell to illustrate his point about mis-communication between creative thinkers and techy-types. After his tale went all around the houses it ended with the immortal lines:

"... let's just say I was left in a position where all I could say to my wife was 'I'll go and take my shower now then'."


Are we all clear on what he meant now? ;-)


---------------------------



So those are my numbers for January. How about yours?

@craftyclaireliz let me know via Twitter that she's collated her own numbers to share with us all today - so make sure to hop over here and check her post out.

And you're very welcome to join in too:

Either throw me a number from your January right now - by leaving me a comment below; OR
Keep track of your own vital-monthly-statistics during February - then writea blog post, upload a photograph, tweet ... or whatever you choose ... then share it with us all at my round-up post next month.
Does that sound OK to you? I hope so!
But before then ... drop by here tomorrow for Lesson 5 of Tips for the Twitter-curious.
See you soon lovely curious-folk!
Julie x